This is the first outfit that I'm posting! I actually wore this yesterday, but was too lazy to upload to my computer. I am wearing head to toe Martin + Osa (ok, almost, the flats aren't M+O), I usually try to mix up my brands, but I had to go to work and apparently there was a VP of some sort on a store visit, so I was told to look my "very best Osa look". I felt that the raspberry cardigan looked good with the pale grey denim, which is my first foray into non-blue denim. I never really liked non-blue jeans, but this season I have branched out and purchased a pair of grey denim and a pair of white denim! (How in the world I am going to keep the white denim clean is still a mystery to me.) The grey pair of boot cut jeans are really stretchy and comfortable, yet didn't stretch out over day long wear, which is really good news to me. I did have to size down in them because they are so stretchy, but that only made me feel good.
Disclaimer: Please do not judge me on the condition of my closet, it is still under construction, the trim needed to be re-done, and doors attached. But for now, it will serve as a colorful backdrop.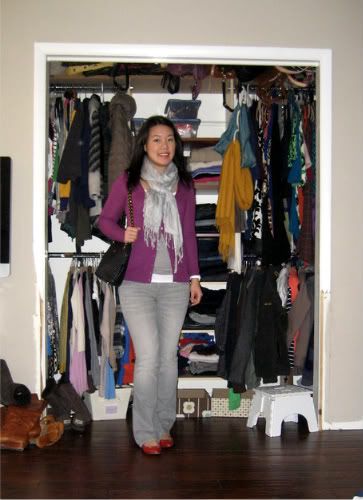 Cardigan:
Martin + Osa Silk Cashmere Cardigan
Tanks:
M+O ribbed tanks in white and grey
Jeans:
M+O light grey bootcut jeans
Shoes:
red Loeffler Randall button flats (score from Nordstrom Rack!)
Scarf:
H&M
Bag:
Bally ("borrowed" from my mother's closet, she hadn't carried it since my childhood)
I wasn't sure if I'd like the red flats with the fuschia cardigan, but it was an attempt at making my outfit a bit more interesting, and avoiding the all too safe grey flats option. The cardigan is so soft and comfortable, I had to buy it in 3 colors, I have a sickness. I am a sucker for a soft cardigan. I am currently obsessed with the Bally bag, it is soft quilted leather with a chain link strap, I remember my mother had carried it when I was little. It is still in excellent condition, and it gives me enough of a quilted Chanel vibe without being an obvious knockoff.